Since 1989 [pharmazie.com] offers comprehensive information on medication for medical and pharmaceutical experts in at the time 35 databases. Some of these databases are free of a license and costs, others require a license. The tool Eisbergsuche or the global search permit a simultaneous access to all databases at once.
Basic databases free of a license
ABDA-databases with recent news from ABDATA,  AMK, BfArM, RKI
information on changes in price
information to inauguration of new medicines
food supplements
dietary texts
Gelbe Liste Pharmindex supplying information on German medical products, homeopathic products as well as biological products including the possibility of price comparison and addresses of pharmaceutical manufacturers.
The "List of Reimbursable Devices" of the Public Health Insurance (GKV List of Reimbursable Devices) contains products, which are accepted as Reimbursable Devices by the state medical insurance companies. REHADAT (from the Institute of the German Economy Location: Cologne) adopts the adjustments of the list of Reimbursable Devices and care aids, published by the Central Associations of the Health Insurance Funds.
pharmaceutical links
Databases that require a license
ABDA-Taxe (ABDA Artikelstamm), includes all economic data such as prices, package sizes, and registered numbers for ordering for all drugs sold in pharmacies
ABDA-database information on more than 50.000 German original pharmaceutical products and generic products.
list of pharmaceutical ingredients supplying information on more than 40.000 ingredients and plants with more than 65.000 synonyms and more than 150.000 drugs in 54 countries
database supplying information on interaction within German finished dosage pharmaceutical products
database with international drugs. Details on more than 120.000 international drugs and generics
ABDA-database: dossier on active substances, pharmacological and toxological information concerning ingredients
risk-check-tool CAVE, the tool for an optimum in drug safety. Based on the personal parameter of your client in combination with the drugs he's taking or shall take the medication may be proved on its safety in this database.
ROTE LISTE®: index of drugs for Germany including EU concessions and certain medical products
– international databases
– Austria-Codex
– Austria-Codex: list of pharmaceutical ingredients
– Austria-Codex: interactions
– additions to Austria-Codex expert information
– Codex Galenica (Pharma) contains all drugs commonly used in the Swiss health system
Artikelstamm (Taxe) – pharmaceutical manufacturers – addresses of about 3000 pharmaceutical manufacturers
Please note
The basic range of databases is available free of charge to medical and pharmaceutical experts. In case that you have a registered DocCheck password, you may use this to enter the basic databases, also without charge. If you don't have a DocCheck password, feel free to sign in at [pharmazie.com]
The databases that require a license are set free with an assigned password after registration and concession. Entering your password you may then proceed to your personal selection of databases, which is shown by a traffic light circuit: the databases for your use are set up with a green light.
For your safety
Due to our cooperation with first class data suppliers, we proudly guarantee for  the quality and up-to-dateness the data you receive. Furthermore, the global index allows access to all databases which can be activated from one single integrative user interface.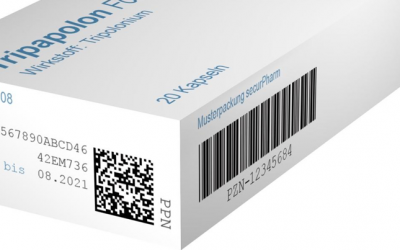 The new Falsified Medicines Directive 2019 - which medicines are affected? As of 9. February 2019, the Falsified Medicines Directive (2011/62/EU), which was adopted in 2011, has officially come into force. What does this mean for the affected players such as...