Marketing Authorisation Holder Drug Dictionaries (ABDA-Database)

The ABDA-database is a facility device for pharmaceutical and medical experts for comprehensive information on original pharmaceutical products and generics available in Germany, Switzerland, Austria and worldwide.
In a nutshell:
Information on more than 50.000 German original and generic pharmaceutical products and more than 120.000 international marketed pharmaceutical products
List of pharmaceutical ingredients information on more than 40,000 ingredients and plants with nearly 65,000 synonyms and more than 150.000 drugs in 54 countries
Dossier on active substances pharmacological and clinical information concerning ingredients
Information on interactions among German drugs and foods within the interaction module
Incompatibility check between a patient's medication and individual risk factors with C.A.V.E
Within the ABDA database, medical and pharmaceutical experts can do research on application and composition, on risks and interaction as well as on recent news for drugs. It is of no matter, which parameter you enter. For example, you may search for the name, the ingredient or also the central pharmaceutical number (ID).
ABDA-Database – Medicinal Products
Composition
active ingredients including amount, additives
Classifications
ABDATA-indications
ATC-Code (German and WHO)
Structure of dosage form
The dosage forms are allocated to certain structures. Therefore, medicinal products can be combined to integrative groups according to certain criteria. It is being differentiated between the aspect "what is within the package? "and structures of application "how is the drug to be applied?"
Storage and durability after opening 
structured data for storage and durability after opening or preparation of a medicinal product
Standard advice sentences
application advices and dosage
additives
pregnancy
lactation period
Monograph to finished dosage pharmaceutical products 
comprehensive texts inform on
indication
contraindication
application advices and dosage
side effects
characteristics
stability period and storage
Medicinal pharmaceutical products
finished dosage pharmaceutical products from more than 40 countries with basic information
registered trade name, dosage form and –structure, provider, co-distributor, country
composition: active ingredient including dosage
ABDA-database: list of pharmaceutical ingredients
This database offers information on substances (active ingredients and additives). They are sourced from magazines, books and information from the manufacturers. Provided are:
Data for identification of substances: name, synonyms, CAS-number, molecular formula
chemical/physical properties: molecular weight, alkalinity, index of refraction, dissolubility, boiling point, freezing point, specific rotation
Data for medical application: maximal dosage, therapeutical usage
Legal assignments
Fields of application
Priscus list (list of medication possibly not applicable for the elderly) including allocated active ingredients
Critical formulation substances including explanatory statements
For biological substances: classification of substances, sources, quality requirements, active substances
Links to further derivatives and preparations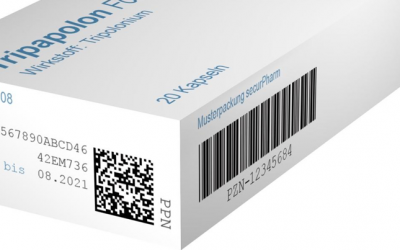 The new Falsified Medicines Directive 2019 - which medicines are affected? As of 9. February 2019, the Falsified Medicines Directive (2011/62/EU), which was adopted in 2011, has officially come into force. What does this mean for the affected players such as...
Our Databases: OverviewSince 1989 [pharmazie.com] offers comprehensive information on medication for medical and pharmaceutical experts in at the time 35 databases. Some of these databases are free of a license and costs, others require a license. The tool...