The German ABDA Drug Interactions Database in a nutshell
This database lists interactions among German drugs, substances and foodation stored in the Drug Interactions Database. It provides the following information:
Effect
Mechanismen
Activities to avoid interaction
Note on special characteristics of interaction
To identify potential drug-drug interactions and risks due to individual patient characteristics – such as age, gender, history – appropriate data are useful for reviewing the medication. With the ABDA Database Interaction module and the CAVE data module, pharmazie.com provides basic data for an database -based review of individual drug risks.
Suitable for:
Pharma Industry, Health Insurance, Regulatory
Source: ABDATA PHARMA-DATA-SERVICE
Related subscription
This database can be accessed after purchasing the subscription package 'Drug Dictionaries',  'Drug Pricing' or 'Premium'
The use of the ABDA database CAVE and the ABDA database Interactions is very valuable for teaching at the Pharmacological Institute because there is no other complete directory of all drugs approved in Germany. There is also no other program as good and reliable as the Cave and Interaction modules for testing for interactions, which we regularly use as part of the course tasks.
Prof. Dr. Georg Kojda
General info
Interaction of drugs with each other and between drugs and food and addictive substances is included in this interaction module.
OTC medicines and herbal medicines are of course included. Nutritional supplements are also considered if they can cause interactions because of their ingredients and their dosage.
Decisive for the inclusion of an interaction in the module is the expected risk to the patient: A monograph is created for interactions that may be clinically relevant.
Ziel der ABDA-Datenbank Interaktionen ist es, die Fachkreise in der Beratung zu unterstützen und zu einer umfassenden Qualitätssicherung bei der Arzneimittelabgabe beizutragen. Dafür werden dem Risiko entsprechende Maßnahmen gelistet.
Die Interaktionen ermöglichen eine automatische Risikobewertung einer Medikation unter Einbeziehung von relevanten Lebensmittelinteraktionen
Content and structure of the monographs
PHARMACOLOGICAL EFFECT indicates the symptoms that can cause the patient's interaction.
The MECHANISM section explains the (presumed) mechanism of interaction.
ACTION suggests how the interaction can be handled. Parameters are given to be monitored and used to adjust the dosages. For some interactions, the time-delayed intake is sufficient. If this makes sense, alternative drugs or therapies are recommended.
The COMMENT lists clinical trial results and other information that help to assess the frequency, extent and importance of the interaction. It also identifies risk factors that predispose certain patients to interaction (eg, renal insufficiency, elderly, children, parenterally nourished patients). If applicable, the cases in which the interacting drugs may be deliberately used together may be mentioned.
Finally, the LITERATURE, which was evaluated for the monograph in question, is cited.
On first view quick information
The German Drug Interactions ABDA Database lists e.g.:
Title: The affected substance groups are used as names. If only one substance is definitely affected, it will be named in the title.
Brief description of the effect: Symptoms of the interaction in short form.
Classification of clinical significance: The interaction is classified according to the required measures.
Already the first display on the screen indicates the necessary measures:
Serious consequences likely – contraindicated
Serious consequences are likely – contraindicated in certain cases
Serious consequences possible – as a precaution contraindicated
Simultaneous application not recommended
Monitoring or adaptation necessary
In certain cases, monitoring or adaptation necessary
Monitor as a precaution
In general, no action required
The quick information allows a brief overview, but only with the detailed monograph text an interaction in their importance for a particular patient can be estimated.
These databases could also be interesting for you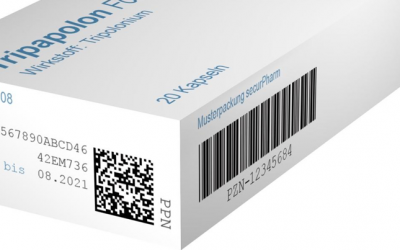 The new Falsified Medicines Directive 2019 - which medicines are affected?As of 9. February 2019, the Falsified Medicines Directive (2011/62/EU), which was adopted in 2011, has officially come into force. What does this mean for the affected players such as...
We are here for you
Any left questions?