The Icebergsearch in a nutshell
The Google-like pharmaceutical search engineby pharmazie.com
After entering a search term, the Icebergsearch lists a number of suitable matching databases. This result list can be filtered according to application criteria, such as country, pharmaceutical dosage form or pharmaceutical manufacturer. We call this "Multidimensional Icebergsearch".
Icebergsearch  – all drug information with one click.
FILTERING IN THE ICEBERGSEARCH
You may use established search terms from common search engines such as "", +, -, etc. in the Icebergsearch. Of special interest is the possibility to search for equivalents, semantic variations, similarities, analogies in language and content. Mistakes in spelling of the search entries will be recognised and result in a "Did you mean" , so that the correct search result will be listed.
Suitable for:
Pharma Industry, Pharma Trade, Health Insurance, Regulatory
The practical thing is that you can find ALL the articles that are sold in the pharmacy in the iceberg search: medicines, medical devices, aids, etc., medicines that have been withdrawn from the market, foreign medicines, etc. In pharmacy practice, our students learn how to use and research a database. The iceberg search is an ideal introduction, as even inexperienced users can find something directly and quickly.
The iceberg search® is based on the bundled knowledge from 25 international drug databases and the intuitive Google-like search logic.
Your advantages at a glance
Mobile friendly - always on hand
The Icebergsearch® is available free of charge around the clock and always up-to-date for research. It is optimised for mobile use on the move. So that you always have your search engine "with you".
Strong networking - intelligent filter
Iceberg Search® has access to the huge pharmaceutical dictionary and knowledge from 25 international drug databases in pharmazie.com. These include the ABDA Database, ABDA Article Master Taxe, Red List, Yellow List, Aids and Remedies Rehadat, Pharmaceutical Substance List and, of course, international databases such as Austria Codex and Codex Galenica.
The fastest way to access these databases is via the Eisbergsuche®. This pharmaceutical search engine, specially developed by DACON, provides an overview of the searched term within seconds. And if too many results have been displayed as hits, the filter function offers a time-saving way to intelligently get directly to the result.
Search optimization
Exclude words from the search:
Add the icon – before a word you want to exclude. Example: cough drops – ethanol
Search for exactly matching hits:
Put a word or phrase in quotation marks. Example: "ASPIRIN 300 N TABLETS".
Upper and lower case:
The search for Adalat Tablet works the same as for adalat tablet
Typo - "Did you mean...?"
The "did you mean?" function makes automatic suggestions if you make a mistake.
Synonyms and translations
The huge dictionaries automatically link synonyms and translations in the background.
Example:
"vitamin bw" finds "biotin
"Gastric ulcer" also finds "gastric ulcer"
"cardiac therapy also finds heart therapy.
These databases could also be interesting for you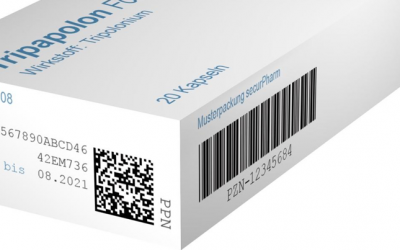 The new Falsified Medicines Directive 2019 - which medicines are affected? As of 9. February 2019, the Falsified Medicines Directive (2011/62/EU), which was adopted in 2011, has officially come into force. What does this mean for the affected players such as...
We are here for you
Any questions left?