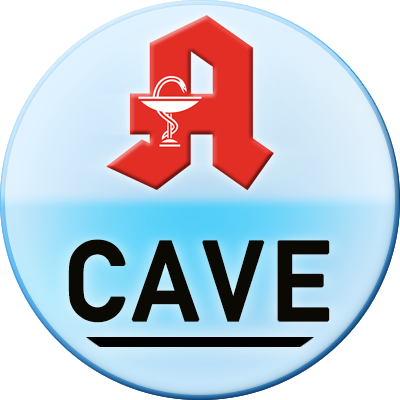 1
,
870
+
Riscs and Medication Relevant Interventions
Partner: ABDATA Pharma-Daten-Service
THE ABDA Database CAVE IN A NUTSHELL
CAVE checks medication safety on:
indication
contraindication
side effect
allergy
age
gender
double medication
The CAVE functionality is also available as a web service which is to be integrated in Your System.
Get your individual time slot for a free introduction
Click my heart to get your 14-day-free-trial account
Background Information to the ABDA Database CAVE

To identify potential drug-drug interactions and risks due to individual patient characteristics – such as age, gender, history – appropriate data is useful for reviewing the medication. With the ABDA Database Interaction module and the CAVE data module, pharmazie.com provides basic data for a database -based review of individual drug risks.

CAVE provides basic data for an automated patient-specific drug risk assessment at drug delivery.

The goal of CAVE is to assist the pharmacy in the consultation and to contribute to a comprehensive quality assurance in the drug delivery.

For this purpose, the patient is included with his personal characteristics – such as age and gender, history and medication history.

CAVE allows automatic individual drug risk assessment

Content of the ABDA Database CAVE
The DISEASE section includes patient characteristics that may limit or exclude the use of a particular finished medicinal product. In addition to chronic diseases. The patient information includes special living conditions (eg pregnancy, lactation) as well as certain age ranges (e.g. climacteric, woman of childbearing age, man of childbearing age) and behaviors (e.g. smoker, competitive athlete, contact lens wearer).

The ALLERGIE sub-division contains allergies when using finished medicinal products. Allergic (immunological) and pseudoallergic substance hypersensitivity are condidered. The testing includes active substances and excipients as well as medicinal plants and their preparations. In addition, a distinction is made between an allergy and a cross reaction.

The AGE section warns age-related application risks of a finished medicinal product. Based on the date of birth, it is checked whether the finished medicinal product can be used at the current age of the patient. The CAVE hints differentiate "No Application" and "Application Limitation." In addition,  if the strengh or the dosage form for the patient´s age are not appropriate the message "Atypical Medication" appears.

In the SEX section, a warning would come up if the gender-specific areas of indication of a finished medicinal product do not match the documented patient sex.

Functions in the pharmacy

CHECK: CAVE is integrated into the cash register function of the pharmacy computer. If coded data are available, CAVE automatically checks patient characteristics on behalf of potential drug risks and provides appropriate information on the screen for individual risks.

DISPLAY: For the finished medicinal product, all potential risks are listed in a clear manner, so that even without patient data during counseling it is possible to draw attention to possible application risks – important for "running customers".

SEARCH: In conjunction with the ABDA database, CAVE enables the selection of appropriate drugs for patients with risk factors – another step in increasing drug safety (AMTS).
Get Your 14-DAY-FREE-TRIAL
Free-Trial

December 8, 2017 - 11:13 am

The trial period ends automatically and is free.
– Free access to all databases in pharmazie.com.
– Your individual introduction webinar (1 hour)
– Tips and tricks on how to save your precious time
Download Subscription Form
Subscribe to our free Databases + News